Shakespeare Trivia Night
with host Drag Queen Lilith Fair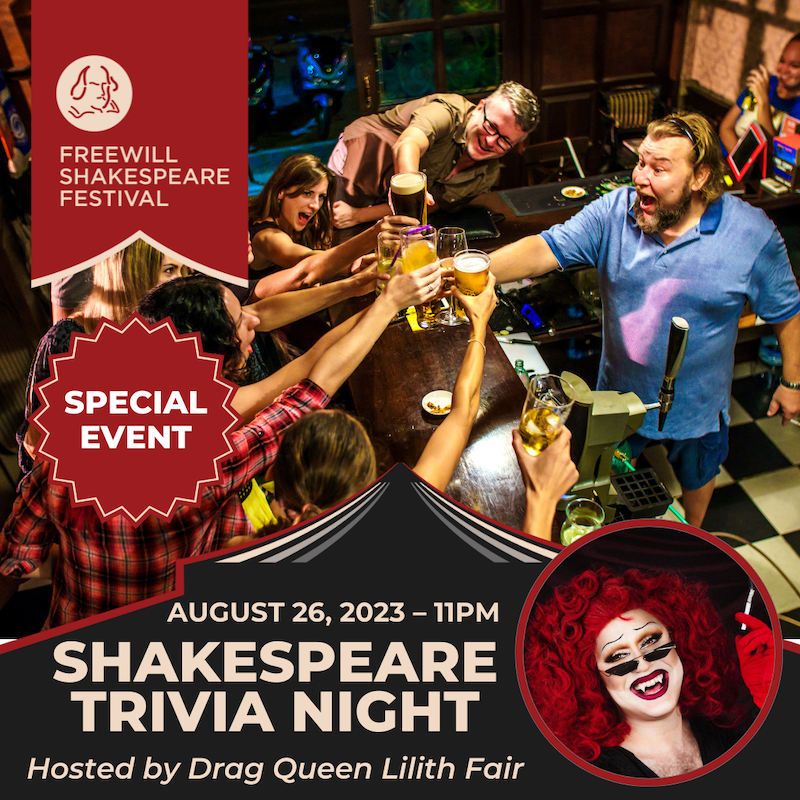 Join us for a night of theatrical delight as we bring together the timeless works of William Shakespeare and the fabulous flair of drag! Prepare to be dazzled by our Shakespeare-themed trivia night, hosted by the incomparable and glamorous drag queen extraordinaire, Lilith Fair. 

Step into our enchanting venue, adorned with the elegance and mystique of the Elizabethan era, as we transport you to a world of Shakespearean magic. Whether you're an avid Shakespeare fan or just looking for a night of laughter and entertainment, this trivia extravaganza promises an unforgettable experience.
Our talented drag queen host will regale you with their wit, charm, and impeccable style as they guide you through a series of trivia rounds inspired by Shakespeare's most renowned plays. Brush up on your knowledge of Romeo and Juliet, Macbeth, Hamlet, and many more, as you compete against fellow participants to showcase your Shakespearean expertise.
​
But this night is not just about testing your knowledge; it's a celebration of creativity and self-expression! Our fabulous drag queen host will infuse the evening with their unique performance art, adding a dash of glamour, humour, and vivacity to the trivia proceedings. Expect jaw-dropping costumes, live songs, and unforgettable stage presence that would make even the Bard himself applaud.
So gather your friends, channel your inner Shakespearean scholar, and get ready for an evening filled with laughter, learning, and unapologetic glam. Whether you're sipping cocktails, admiring the breathtaking performance, or showcasing your trivia prowess, this Shakespeare-themed trivia night hosted by Lilith Fair is an event you won't want to miss. 

Doors open at 10:45pm
Show starts at 11:00pm